Rosendal's Bee Products now offers a unique opportunity to strengthen Your company's work for the environment.
You can contribute to a better environment in Your neighboring area with our comprehensive package. The bees' pollination of fruits and berries benefits everyone.
In addition, Your brand will grow stronger both through advertising and environmental profiling.
The offer contains advertisements on one or more beehives.
We offer advertising space on several locations in Markaryd, Älmhult and Ljungby municipalities as well as on trailers moved around southern Sweden. The advertising spaces are distributed on a 'first some, first served' basis.
This is what we offer:
Advertising space on one of our hives (40×20 cm)
A strenthened environmental profile
Advertisement on our Facebook page and our home page where pictures of "your hive/hives" will be published.
Pictures of "your hive" that you may use as you wish.
Choice of advertising space, "first come, first served".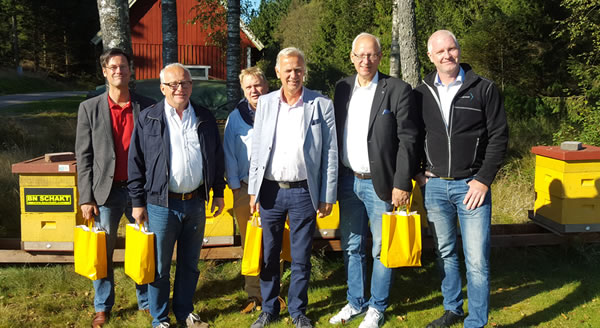 A study visit from the municipal government in Markaryd.